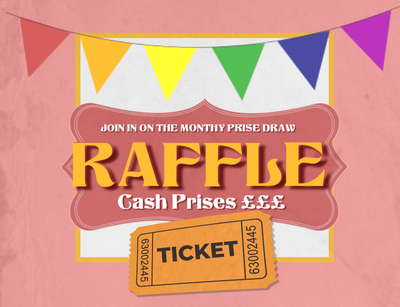 Break the Silence (1191438) hosts a monthly raffle draw to help raise funds for the victims of domestic abuse. Their are three prizes, all cash with the 1st prise being a guaranteed minimum of £50, the second and third prizes being dependent on the amount of funds raised. At least 25% of total funds will go towards these prizes, the remaining will be used to help towards our work with victims and survivors of domestic abuse.
Please consider making your raffle a recurring monthly donation to get entered every month! Further tickets can be obtained here:
Raffle Tickets
Each ticket is allocated when you donate £2.50 to the charity. Multiple tickets can be attained by simply increasing the amount donated, 1 ticket for every £2.50. Ticket numbers will be emailed to you normally within 48 hours. The draw will take place by random number generator on the 1st of every month, cut off for entry is 12 midnight on the last day of the month. The winning numbers will be informed by email and posted on our Facebook page and website. Please ensure your email address is current and valid for PayPal as your winning confirmation as well as your raffle numbers will be sent there.

All raffles are carried out in accordance with the small lottery licence terms and conditions.